09-19-2018, 07:36 AM (This post was last modified: 09-19-2018, 07:36 AM by SERIOUSLY THOUGH.)
After all these years, I may actually submit a piece of trivia !
Mamu, from Link's awakening is based on Mamu from Yume Kōjō: Doki Doki Panic (game that was repackaged as Super Mario Bros 2 outside of Japan, with Mamu now called Wart).
Mamu/Wart from SMB2
Mamu from Link's Awakening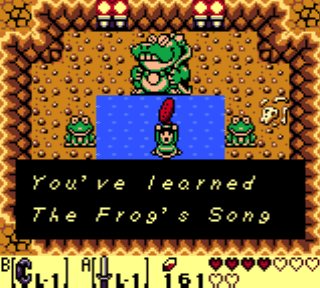 SOURCES
https://zelda.gamepedia.com/Frog%27s_Song_of_Soul
https://zelda.gamepedia.com/Mamu
https://www.mariowiki.com/Yume_K%C5%8Dj%...Doki_Panic
https://www.mariowiki.com/Wart